Tag: Tarot
As you may have read here, my root server died this week. It had been running quite reliably ever since sometime in 2002. But much as the "Death Card" in tarot os NOT the harbringer of doom, the death of this machine was actually a bit of a lucky stroke for me. Why? Well you see, the way these root server contracts go, you get one machine all to yourself. One physical piece of hardware. And that's the catch. If this piece of hardware is anything near as reliable as the one I had... you're sort of stuck with it. And in our toimes of rapid hardware performance immprovements that's a bit of a PITA after six years. If I had signed the exact same contract this year, the hardware I'd be using would be quite a bit more powerful than the late server-wg.de was!...
more...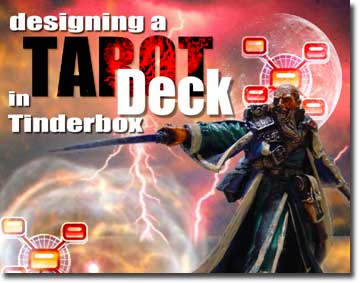 ...
more...
Once I stopped groaning and whining about my lack of financial safety and lack of paying jobs and actually stared thinking about what it is I would like to do, all of a sudden I find myself with not only one but two writing assignments for topics that are realy dear to me.
...
more...
I've been talking about this for some length now, but somehow never really explained what it looks like....
more...
Back in April Gordon Meyer had a nice post outlining his use of Tinderbox map views and adornments to record a card spread.
more...
According to this Google-referrer DECK DESIGNING TAROT OR PLAYING OR CARDS -PATIO -PORCH there's other people trawling the net about the topic of designing Tarot decks.
...
more...
With my interest into Tarot - and the design of it - it might not be surprising I had to have the Bright Idea Deck by Mark McElroy. It's very much like a Tarot deck, only very much more "usable" for normal, un-enlightened people. It's symbology is straightforward and depicts scenes from everyday life. No mythology or arcane symbolism. At least not such that can't be understood directly without a major in the occult. And given my dabblings in using Tinderbox for Tarot use, it was only natural I tried out various spreads and how to record the readings in Tinderbox.
...
more...
Readers of this blog know that I see a very strong conection between Tarot and storytelling. I have been interested in story-generative tools for quite some time.
...
more...
Having illustrated my own use of the Bright Idea Deck and my own work at creating a specialized Tarot deck I was very curious about how the Bright Idea Deck was created. So I simply went and asked if Mark McElroy might agree to an eMail interview. And he actually did!
...
more...
Here's an article that describes some fun and claming things you can do with kids and a deck of Tarot cards. and it also has some good insight into teenage wisdom,...
more...
You might have read that between the lines: I'm in a state of flux, of uncertainty. New things coming - ready or not.
...
more...
Here's an article dealing with Tarot storytelling, in a very tarot-ish way. You may gloss over the spiritual mumbojumbo all you like, but it has some very useful concepts in there:
...
more...
Here's another screenshot from my use of Tinderbox as a visual outliner tool. This one illustrates nicely how I move from a "idea cloud" towards an outline like structure. That is something you will not be able to do in traditional outliners, or with strict hierarchy for that matter....
more...
Mark has a nice post about IF and hypertext-fiction: Interactive Fiction and Hypertext Fiction where he discusses (and ponts to discussions about) the inherent limitation of interactive fiction (IF), This sentence sums it up well: "[I]f you make Hamlet a game, it has to be rigged."
...
more...
Die hier vorgestellten Karten Decks benutze ich regelmäßig in unterschiedlichsten formen: zur persönlichen Beratung, als kreative Inspiration, für Rollenspiele etc.
...
more...
---
alles Bild, Text und Tonmaterial ist © Martin Spernau, Verwendung und Reproduktion erfordert die Zustimmung des Authors