Tag: Warhammer 40k
...
more...
more...
Ein Tarot basiertes Erzähl-Rollenspiel im Warhammer 40000 Hintergrund?
...
more...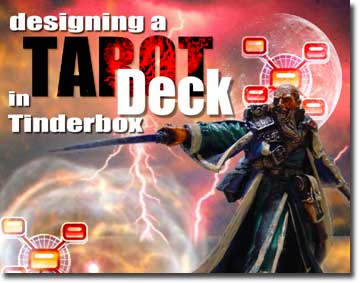 ...
more...
I just posted my latest audio track to my tracks page. It's more of a mystery play, with spoken text etc. Oh, and some understanding of the Warhammer 400000 universe is helpful to understand what happens, but not neccessary. (Father, I have been dreaming.mp3 6:46min 6.2mb)
more...
There is this article I wrote in the time of '04-'05 about my work with designing a fictional Tarot deck in Tinderbox. It was originally meant to be published in Eastgate's TEKKA online magazine, but that never really got finished... I've hinted at it some time back, and now I've decided to put what I had online here on my own website. Come read and enjoy: Designing a tarot deck in tinderbox.
more...
Mark has a nice post about IF and hypertext-fiction: Interactive Fiction and Hypertext Fiction where he discusses (and ponts to discussions about) the inherent limitation of interactive fiction (IF), This sentence sums it up well: "[I]f you make Hamlet a game, it has to be rigged."
...
more...
In my favorite literary genre - Science Fiction - there is a wealth of vibrant settings and compelling stories. So mayn in fact that there is hardly a shortcomming in thing to read and be entertained. But sometimes there are those things one should read but somehow never manages to. In my case I have a long tradition of being totally fascinated with Frank Herbert's DUNE cycle of books, but never managing to actually read the books themselves. I tried alright, several times. I never got far. I know the setting and the history of event outlines must be totally intriguing, and I see very many parralels in the Warhammer 40000 universe. ...
more...
---
alles Bild, Text und Tonmaterial ist © Martin Spernau, Verwendung und Reproduktion erfordert die Zustimmung des Authors